Getting started and then growing your business is a daunting task, but doing your due diligence and planning for success can make a huge difference.
Sean Castrina is an author, speaker and entrepreneur who joined Josh to chat about recruiting/retaining world-class talent and how to achieve anything. Sean has started more than 15 successful companies ranging from retail, property management and development, direct mail, and consulting to home services.
How to Attract World-Class Talents
In businesses, one of the fundamental things is value proposition. What can we promise to our customers that makes them buy from us? Parallel to that is what is your value proposition to employees?
We would have something that was attractive to the customers. If we're selling pizza, we would make sure they get their pizza hot, in 30 minutes or less. We have to have that same value proposition for employees. They can go work for other companies. Why should they work for you?
If you don't have that value proposition pitch to current employees as well as new employees, you're really behind. My pitch to employees is every bit as strong as my pitch to my target customers because they're equally as important.
Turn your IT into a utility and save hundreds of dollars with our simple pricing.
How to Keep Your Employees Happy
If you have less than 100 employees, you should meet with every employee at least once a year and do this very simple exercise:
1. Are you happy here?
2. What do you see yourself doing here three years from now that would make you feel fulfilled and really in your strike zone?
Those two questions will tell you if something's not quite going right. You'll get a general idea whether they're on board or they're going to be off the ship.
Most employers wait for employees to walk in their office and quit or tell us they have another offer. We wait until the bottom falls out, and then we're in a defensive posture (How much did they offer you?) and then we try to come back and win (I'll pay you more than that). But the problem is if they've already come to you with that offer, you have more than a 50% chance of losing them. They've already baked that into the cake. It's not like they got that offer an hour ago. Typically, when they bring it to you, they've thought it over a little bit, and they may already have their answer.
If you've got more than 100 employees, you're going to have five different people doing it. It's going to be the managers doing it. But there's no reason why you, the owner, can't have that conversation with under 100 employees.
Focus on what matters most. Outsource all of your IT needs to dorks. 
What to Do If an Employee Is Not Happy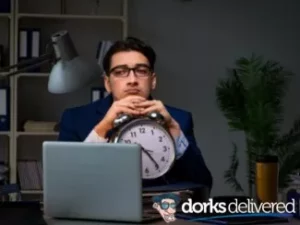 I would say you hired the wrong person. If somebody's doing something they don't like doing, then somewhere in the interview process, you miss the boat.
I always say I don't hire 7s on the scale of 1 to 10. If you interview somebody and you think they're a 7, they're probably a 5 because when you interview them, you're excited and you think they're going to be great. But if they're a 7, they're extraordinarily average.
For critical hires, you've got to hire only 8s and above. They're the only ones who generate major revenue, can oversee other people, have leadership skills, can handle a high-level client, and can handle a high-level problem. If you have everybody below 7, they can't solve problems, they can't deal with your high-end clients, they can't train anybody because they're not good enough, because you don't want to duplicate a 6.
So I think that's one of the key things, is that just in the hiring process, trying to get that right from the beginning, that's sensible.
I never make it personal because the bottom line is you're there to run the company, and at the end of the day, you may have to let that person go. I understand the culture thing like the Zappos story with Tony Hsieh, but I found that if you get too close to employees, what always ends up happening is their production goes down and then you start hearing all the personal sob stories and they become an excuse to suck for the next six months so I don't want to know that.
Get reliable IT services starting at $1 when you join the Dollar IT Club.  
Reward Loyalty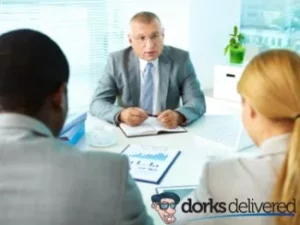 If you have employees that helped you build a company from 10 to 100, employees, give them a hug every day. They did something extraordinary. I'm a fanatic about loyalty. If 12 people helped you build it to 100, you treat the 12 like gold. You don't change anything because whatever you did worked.
Let's say I'm the owner of the company and I have partners across all the divisions. I would sit in on the interview with them on the final hire if it's one that's significant. They have the ability to hire base level people, but if they're bringing on somebody that might move the needle, they'll typically ask me to sit in on it. I'm the owner so I give them the founding story, the vision I have for the future, our mission, and what makes us unique.
I don't care if my partners are closer to their group, and they naturally are because they're working with them in and out every day. But I've got to be higher because if one of Tony's employees is not quite cutting it, I can go bust their chops and say "I've looked at your numbers, and I'm just not overly happy with them so I'm going to be watching your numbers over the next 90 days, and they need to improve." It allows me to be the bad guy, and I present that image from the very first interview. They clearly know that we're not going to lunch together.
Have the technology you need to grow your business. Get great savings on IT support, software and hardware.
How to Keep Calm With Your Hires
I have to admit I've got a few people who are hard to replace. In my brain, I'm having all these confrontations with them. And in person, I don't because it's reality. You got to play the hand you have. You're going to have a few people who are very sensitive, and it's just not worth the fight. Sometimes it's better the devil you know than a devil you don't know.
You really got to pick your fights because they can quit so you got to be careful. But sometimes you've got to go about it and talk to very sensitive people. You can't hit them all at once with everything; you got to kind of slap them around over 30 days. You introduce something on Monday (Hey, I'd love to see if you guys can do this.) and then you come back a week and a half later (You guys did such a good job fixing that. Do you think we could bring this up?)
Remember That Everybody is Different
Treating everybody the same would be great, but it's not the reality. Certain people are superstars, and they are hard to replace, and you just got to do that. But don't get me wrong. There's a point where if they went over the line, I'm going to tiptoe around so much, and then I'll play out the bluff. When I do that, I'm making it as if I know they will quit. But never make a bluff you can't live with because I've done that bluff before, and they quit. So now, if I do it, I've already baked into the cake that they could leave. You have got to be careful.
And then sometimes you just got to say to people, "I don't want this to be a knock-down, drag-out and this is just you and me talking here. Nobody knows anything that you and I are discussing. Right now, a couple of things need to be corrected. You're extraordinarily talented, but it can't go like this. I have very little power in this other than to tell you that this has to change or we need to move in this direction. We're losing money there, and I need your help."
If you're naturally a gregarious, friendly person, that's your God-given wiring, so if you can't do it, which is okay, you must have somebody who can. Somebody on your team's got to be able to drop the hammer. If your personality is to be a good cop, there's nothing wrong with it. You're the cheerleader in a positive way. There's nothing wrong with that. But somebody's got to be able to introduce bad news to people. You have to be yourself. If not, you'd just be miserable.
Why Do Startups Fail?
There are three big reasons why startups fail.
1. Not Beta Testing Your Idea 
The person who started a business has this idea in their head and they've never beta-tested it. A couple of buddies said that's a great idea. Ideas have a tremendous way of getting to the marketplace, and then it's crickets.
You've got to beta test anything in this day and age, where you can pre-sell stuff, put up a website tomorrow, and promote anything to get a little bit of feedback.
If you go all in on something without beta testing it, you're a fool.
Also, give up your paycheck and you're going to keep your original job. The biggest mistake people make is they quit their jobs. Your job is the money that you're going to use to hire that person. Because if you're the first person getting paid in a company, it's a mistake. You've got to give that to the person that allows you to scale.
I've always given my paycheck to them while I did nine other jobs to be able to feed that dragon or I brought him on as a partner. You got to be creative. You either got to give them equity in the company, profit sharing, your lung, your first child, but you're definitely going to give them your paycheck.
2. Don't Hire Family and Friends 
Startups tend to hire family and friends. Our first critical hire really needs to be somebody extraordinary. Bill Gates' initial hire was Steve Ballmer, who's worth about $50 billion right now. He got him out of Stanford in 1980, and he paid him $50,000, which was a great hire in 1980. He didn't hire a buddy.
Steve Jobs hired Tim Cook, who took Apple to a trillion dollars. Mark Zuckerberg hired Sheryl Sandberg, worth $1.7 billion and she monetized Facebook.
Your early hires, your first five hires, are typically critical. What a lot of people do is hire their buddies, and I don't think that's a good idea.
3. The Founder Is a Schmuck
If the owner or the founder is just a schmuck, you can't fix the schmuck. You can't fix stupid, lazy, indecisive, or someone who has a new idea every six months that they want to run a full force towards.
We've all met people who just got that something. They're confident, focused, likable, relentless, a salesperson. They just got it and we'd invest in it. And we've met people that you wouldn't give five cents to, and then they tend to be 50% of the people that are starting businesses.
Turn your IT into a utility and have a lot of time to work on your startup. Learn more!
8 Unbreakable Rules for Business Startup Success
Sean Castrina is also the founder of The Weekend MBA the author of four bestselling business books, including 8 Unbreakable Rules for Business Startup Success.
If you cannot afford to fail, 8 Unbreakable Rules for Business Startup Success is the book that you'll want to read. Written in a straightforward language with key takeaways and action steps, this book guides you through the rules to follow for starting a successful business. Visit Sean Castrina's website to get his book for free! Get the Book.
It's the most endorsed start-up book ever written. Hailed by the academic community, NY Times Bestselling authors as well as established entrepreneurs.
"8 Unbreakable Rules captures the soul of business that has made our country great…"
-Dan Miller, N.Y. Times Bestselling Author of 48 Days to The Work You Love
"8 UNBREAKABLE RULES FOR BUSINESS START-UP SUCCESS is the most practical start-up book I have ever read."
–John Jantsch, author of Duct Tape Marketing and The Referral Engine
"Starting a business is like finding your way around a dark room. This book is your flashlight; it provides practical and insightful guidance to find your way without hitting your hip on the corner of the table."
-Jerry Nemorin, Founder and CEO of LendStreet
---