Australian manufacturing has a storied history, but over the past few years there has been a lot of doom and gloom with the likes of Holden shutting down their local operations, but there is some good news. Adam Piper and Jimmy Eckert from Products for Industry (PFI) joined Josh to talk about the state of our manufacturing industry.
Is the Manufacturing Industry Dead?
Jim: I'm going to say, "No." There's bespoke manufacturing, and that's where we come in. If you want a good quality product, an interface with the client, and after-sales support, you can't get that by going overseas.
Adam: Our manufacturing industry just needs the government backing to keep it moving in the direction that it is.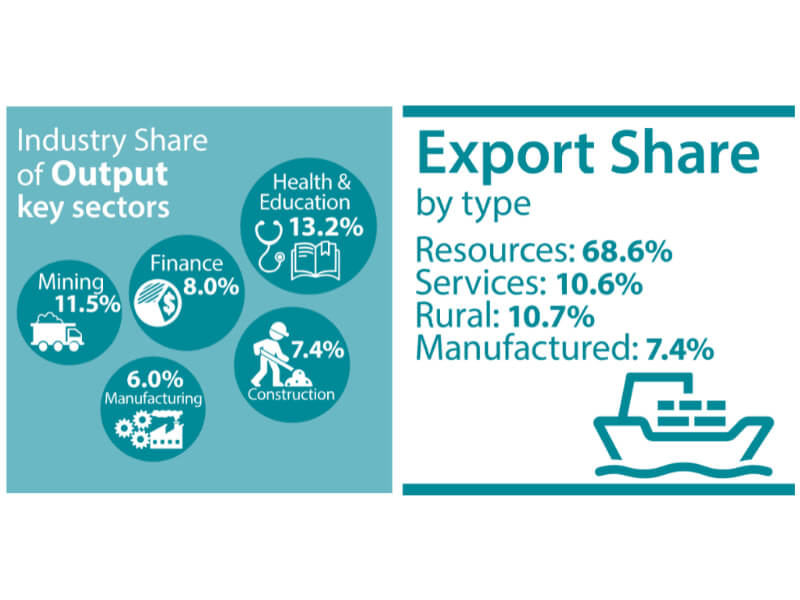 The Composition of the Australian Economy SNAPSHOT as of 14 January 2022 according to Reserve Bank of Australia
The Manufacturing Industry Needs the Government's Support
Adam: The sovereign wealth of the country is dependent on innovation and export. Export is the biggest interest we really should have because if we're importing, we're sending money out of Australia but if we're exporting, we're bringing money into the country.
Adam: The sovereign wealth of the country is dependent on innovation and export. Export is the biggest interest we really should have because if we're importing, we're sending money out of Australia but if we're exporting, we're bringing money into the country.
The reason Holden became what it did in the country was because of the government backing and support to develop that economy in the country. The government needs to get behind it. Tax incentives, tax breaks, all of these things make people want to produce more out of Australia.
Holden left the country because everything was five times more expensive. Wages, energy, cost of living, supply and transport, are five times more expensive than anywhere else in the world, so it's not feasible for them to produce here.
We understand that Australia has a higher cost of living, and with that comes higher wages and everything that goes with it. But if that's higher and we can't produce in comparison to Southeast Asian countries, which can do it for a lot less, our innovation has to be up and our capability has to be more than what everyone else's.
Boost your organisation's productivity. Ask us how!
Manufacturing Can Benefit From Some Changes in the Schooling System
Adam: We've got to accommodate the technical people that we are training and developing through the universities in the country to stay within the country. A lot of people I talk to say that the best people typically go overseas. If they're producing for other companies overseas, it's not great for our sovereign position.
We're seeing now that we're not achieving multiple resumes for roles. We're seeing a couple, and the cost of getting that person is increasing because the supply-demand ratio is just out.
The HAILI Rocket Program Curriculum


Remove repetitive tasks and have more time to work on your business. Ask us how!
Adam: We have a programme called Science of Rockets, which is a HAILI hybrid rocket motor. We designed and developed this, and it goes into schools as a STEM programme.
It is focused on teaching kids' adaptable skill sets. Kids can basically tear down the rocket motor, and then they put it all back together. It's a legit rocket motor. They live fire and everything.
The STEM Programme also teaches them about the opportunities that are out there in the manufacturing industry in Australia. You can start as a tradesman and do what I've done, that is, move into project management and then move into sales. You can start there and keep moving forward.
When I was at school, we didn't even know that manufacturing existed. All I knew was construction and mining.
Jim: When I was going to school, there's a massive push to go to university and be an engineer. I thought let's go from the bottom up. I don't want to be that guy that's coming to the top and saying, do this, do this.
I was in the Navy beforehand, and I think the engineers that we had and respected the most were the ones that were sales first and then transitioned to engineers. It's the same in our game as well. A lot of the project managers have been tradesmen beforehand, and it gives us a better understanding and an overview of how the project should go. You can relate to the trades, and you can walk in their shoes.
Adam: The future of Australia must stem from school. These STEM programme and the PFI Aerospace, which is another area of our company that's developing incredible technology. And it's trying to provide innovation and everything to local industry, socioeconomic division.
Make sure your organisation is at maximum efficiency. Fill out the form for a chance to get a free audit.
What's Stopping the Progress of Manufacturing in Australia?
Adam: I would say the cost of execution—energy, labour, logistics and transport. It's the same reason why GM pulled out. Those are the key fundamentals of any business. For you to produce competitively on the global stage, it must be at a competitive rate.
We're also hindered by the Australian dollar versus the US dollar. We prefer to work in the local market. We support Australia.
Before COVID, we had been solely 100% Australian-designed, built and delivered. When COVID happened, everyone stopped but we grew 40%.
For a long time, we weren't winning decent projects because of the cost of manufacturing in the country. We were honest and we'll walk into a meeting saying we're not going to be the cheapest but we're going to be the best solution. I can commit that we will be the best and you'll never have anything but support from us. You can go for a cheaper price, but that's a one-time transaction and the ongoing cost of that will hinder you in the future.
We can't compete with the cost point of overseas manufacturing and we've got to be realistic about it. Sometimes, we don't engage when we're asked to quote on something that's not bespoke, it's very straightforward; anyone can send that to Thailand or China and have it done a lot cheaper. We focus on the in-between.
There's a company that sells a case packer. They sell a mincing machine here from Italy and a case packer from France. But no one provides that solution in between to get that whole thing to work because every site, every product, every skewline has a different arrangement to what it needs to finalise that manufacturing.
Jim: We can go in there and look at a project and do the design, the layout, the electrical automation, the whole installation, and then the after safety.
Adam: You can weigh up the pros and cons, and sometimes it's about a price point. Sometimes you don't compete. If it comes in a catalogue, I don't want to look at it. I'm not going to compete with a catalogue. If it's in a catalogue, it's also in ten other catalogues, and we don't have one in ours because we don't have a catalogue. We're going to design it from scratch. We're going to do all the R&D, which comes at a cost, especially with the engineers that we have. They're incredible.
Get a fresh pair of eyes to look at your business and see where it's best to optimize and automate.
Innovation and Manufacturing

Digital technologies can help companies gear towards high value-add manufacturing through custom solutions and more efficient production. The Department of Industry, Science, Energy and Resources shares this figure of 'smile curve' that Australian manufacturers can capture by adopting technology and strategically shifting their market focus. 
Adam: If you can't produce at a good margin, then you have to innovate in a great way to have something that nobody else has that stops manufacturing cost from being a problem. If you have innovation that's world-class, you don't have that competition.
Innovation is what we have to focus on as a business. Everyone else is building conveyors so how can we design them better back right at our stage? How can we engineer them to lower their cost? What do you need to be addressing when you engage with every client? What are they looking for?
Adam: When people say automation and robots, the general public in most cases just think it's a loss of jobs. But before there were excavators and diggers, everyone dug with shovels, and we all moved on after an excavator and digger were invented.
Adam: It gives opportunities like Jim and me to progress into project management, sales, and all these other fields. We get to learn about them. The whole team is full of tradesmen, not high-level university-qualified guys.
For example, with the CNC machinery, it doesn't mean that we don't have 15 guys on the press. But why should we put a very good and very confident mid-40-year-old fitter and turner to do 12,000 stainless steel bosses on a lathe? That's not right for that man's mental health. A CNC has its place, and so does a manual.
---