Small business grants can be one of the best ways to give your operations a kickstart. Whether you've applied for any before or are looking to dip your toes in, Toni Raso from A Better Bid joined Josh to talk to us about QLD government grants for your small business and how you can go about qualifying.
1. How Do I Get a Government Grant to Start a Business?
Business grants are the government's way of enacting policy, and it's also their way to support the local Business grants are the government's way of enacting policy, and it's also their way to support the local economy.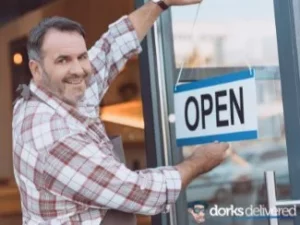 Brand-new businesses are generally ineligible for cash grants because there's too much risk. All business grants must be safe. The government wants to be betting on something that's likely to be successful. As a brand-new business owner who is untested, they don't know if you're safe yet.
In Australia, we have other options for brand new businesses, such as subsidised access to services. But I'm afraid no one's going to give you $10,000 to get your stock. You're going to have to come up with that yourself.
Often, government funding is co-funding, so they put in some and you put in some.
It's taxpayer money, or ratepayer money if it's a local government, so they have to have a lot of transparency in the way they spend their money and they have to be able to report on it.
When a local politician stands for the camera smiling with the big cheque saying that they've supported a local business, it has to pass the sniff test. Using taxpayer money to bankroll your mates to open six new businesses in six months is probably not going to meet those requirements.
2. Small Business Grants Have Been Around for Years
Small business grants are very much more on the radar now because there's been more publicity about them. The good thing about that is people are getting more educated about where to look for small business grants, what are funding sources, how to qualify for them, etc.
The flip side to that is sometimes there's an impression that there's more money available than there is or that it's easy to get.
3. Business Grants Are Usually for a Project
The rescue measures from the COVID grants are unusual. Usually, business grants are for a project. A project has a start date, an end date, and an outcome. For example, a local scout group wants to send 10 people on an advanced CPR course, so they've applied for funding for that.
We have a start date, which is when the course starts, the end date, which is when it finishes, and the outcome is that 10 people now have that qualification. You don't get to be given money because you're nice, your organisation does good things, or we like your shoes. Grants are always for a project, and that's the key thing a lot of people don't understand.
Do you have a project in mind? Organise a time to go through it with a dork. 
4. Supply Doesn't Necessarily Reflect the Demand
I think the people making the decisions are trying to balance health outcomes, social outcomes, economic outcomes, etc.
The state government have calculated how much they can put into the pots for businesses to apply for, and they've set those limits based on how many people they think are eligible to apply and what the success rate is going to be.
There's a business grant a couple of months ago that opened and then closed in 3.5 hours. There's another that closed after 41 minutes. It was awful. I had a client who was stuck in the portal while it closed. She got in at exactly 9 AM, and she was prepared. She did everything I told her to do.
I think partly some people are applying for the grants because they don't want to miss out on something— "If people got a grant, then I should get a grant because I'm also amazing." Sometimes, it is genuine where there is a project that they've wanted to do for a long time, and this cash injection will help them achieve that target and achieve it quicker. And sometimes people think if there's funding available, I have been toying with the idea of a couple of projects, but now I know I have a chance of getting a grant for it so I'm going to go ahead and apply for a grant for that project.
Just like all sorts of things, the amount of supply doesn't necessarily reflect the need and the eligibility criteria don't necessarily reflect the businesses that need the help the most, but it's a blunt tool. I don't know how else they're going to administer it. 
Are you planning to work on the technology side of your business? Ask a dork about IT services that are covered by grants.
5. QLD Government Grants for Small Business Are Published Online
In all states of Australia, if you go to your state government website and do a search for small business grants, there will be a page that comes up and there will be a newsletter to which you can subscribe for free.
There's also a federal government grants funding tool that lets you fill in your postcode, your industry, and what you're looking for and it comes up with results and takes you through to the different schemes. They're all free to use, and they're quite easy to use.
What I recommend whenever you look for a grant is click right through to the details because sometimes the website hasn't been refreshed and the grant's closed. It's really sad when you get excited about an opportunity that's not there.
At the moment, most of the small business grants are around innovation. We have the key targeted industries at a state and federal level where there is an investment. These include modern manufacturing, defence, biotech, and health.
6. Some Business Structures Are Ineligible for Grants
The first thing to do when looking at applying for grants is that you must have a project in mind with the start date, end date, and measurable outcomes. The second is that you meet the eligibility criteria, such as how old your business is, what the turnover is, and you are registered for GST.
Some business structures are ineligible for some grants. For example, trust structures are often specifically precluded from applying for grants.
Pro Tip: Download all the documents and read them thoroughly. If you're a read-on-the-screen person, use whatever highlighting technology you have at your fingertips. If you're a print-it-out person, use your old-fashioned highlighter and then digest it and then go back and have a look at that again.
Most of our services are covered by grants. Talk to a dork about the project you have in mind.
7. Eligibility Criteria and Requirements Are Released Weeks Ahead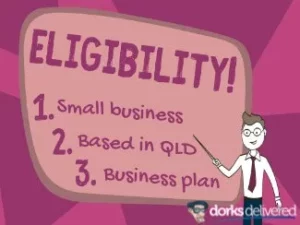 Often, the title of a business grant doesn't necessarily reflect what it's actually for, so go to the websites to subscribe to the newsletters. The funding bodies tend to be staffed by really helpful people. So I know for the Queensland government, whoever answers the phone at the Department of Employment Small Business and Training wants to help, and if they can't, they'll find someone who can help and they will get back to you. They're really nice, so be nice to them. If you don't qualify for a grant, it's unlikely the person who answered the phone was the decision-maker behind it.
The ones that closed in 41 minutes and 3.5 hours were Queensland state government grants. The details of what was required to apply were released a few weeks ahead of time.
Read the documents. Check if you're eligible, check if you've got all the information and have it all ready to go at your fingertips so you can log in and apply when it opens because it closes really quickly.
8. Writing Your Bid Comes Later
Usually, competitive grants don't exhaust their allocation that quickly. But if you think of applying for a grant or tendering for work as a 10-step process, the writing bid is Step 7. There is so much you have to do before that.
There are going to be things that you always have to provide, such as your ABN, financial statements, an accountant's letter, and it might need to be witnessed by a justice of the peace, which means you've got to line up at the shopping centre on Thursday night socially distanced. These things take time, so get yourself organised in advance.
Enjoy time freedom! Talk to a dork today about getting more time to work on your business, not in it.
Pro Tip: When it comes to the written component of the response, this is just like a Year-9 History assignment from Mrs Wilkie. Answer the questions that have been asked and make sure you include the who, what, where, when, and why.
If there is a question about your approach to preparing a grant submission and you write a 500-word essay about how you opened your business in 2018, you work from home and you really like it, and you have two cats, that might be a lovely story that's well-written but you've completely missed the point. The human beings at the other end of this have to read it and decode it.
Don't write fluff. Make it as easy for them to say yes to your project, so read the question and answer the question.
Get someone to read it (not on the day it's due, give them notice) and get them to give you feedback. Did you explain the project properly? Did you explain why your project deserves the money? Did you explain how your project outcomes align with the funding body's objectives?
Proofread it. I don't recommend writing something and then submitting it. You'll always find an error. You'll always find a way you could have said it better or differently. After you've had a trusted friend or colleague do the feedback, wait a night and do another proofread.
9. If You're Not Eligible, Do Not Apply
There is a sales method that involves a numbers game. If I make enough phone calls, enough people will say yes. For every 100 phone calls I make, I'm going to get three clients. Grants don't work that way. If you're not eligible, don't have a go. They're not going to give it to you because you're nice or because you're kind to puppies. There is a sales method that involves a numbers game. If I make enough phone calls, enough people will say yes. For every 100 phone calls I make, I'm going to get three clients. Grants don't work that way. If you're not eligible, don't have a go. They're not going to give it to you because you're nice or because you're kind to puppies.
10. Co-Contribution Varies
For innovation grants, getting funding from one body sometimes means you can't apply for that funding again. When it comes to small business grants where you must co-contribute, it's important that you identify what that co-contribution is. Sometimes they say another grant can be the co-contribution, but often they'll specifically preclude that it has to be cash money or an investor. The more you do, the quicker you get; you gain efficiencies and you learn to get into the flow.
Pro Tip: Do a return-on-investment exercise every time. Think about how much is it costing you if you're away from your core business, how much is it costing you when you take your lead programmer and ask her to write a technical piece? Can you afford to apply for the grant especially if you're not successful? Often, there's a bit of a sunk cost mentality behind it.
People think they're paying her salary anyway, so it doesn't matter if I ask her to do extra work and that might be fair and reasonable, or it might not. That's not one for me to decide, but definitely look at also nonfinancial factors, such as your reputation in the industry, how mature your project is, is it really a good idea or are you just jealous because one of your competitors got a grant. That's a really bad reason to put resources into.
You do get efficiencies with time. For small businesses, you're probably not going to be eligible for many grants outside of innovation.
But for social enterprises and community groups, a lot of their main income comes from grant activity. They enact social policy, such as homelessness and domestic violence. The principles are the same, whether it's commercial or not, but the approach and the way you write, how your project matches the funding body's objectives will be slightly different when you're doing it for a social enterprise, a charity, or a not-for-profit from when you're doing for a small business that's looking to innovate and grow.
Toni's Advice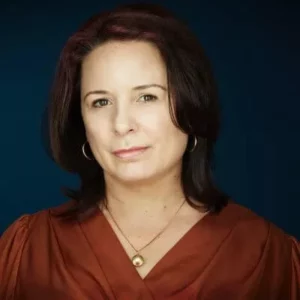 There are always more people who need small business grants than small business grants that are available. If you don't get a grant, don't take it to heart. You might have been one of the 10 exceptional applications, but they could only fund two. It's not necessarily a reflection of your business model, your writing skill, or the supporting information. Often, it is just that there's not enough to go around. When that happens, it's okay.

Recommended Book: Indistractable by Nir Eyal
"Indistractable by Nir Eyal has nothing to do with my industry, but I think it's crucial for any human who's trying to achieve things in life. A close friend told me about this book at the start of the year. I managed my time because of it, and I'm just so glad that this book was recommended to me."
---