9 Ways to Improve Your Website
Websites are one of the top ways to showcase your business online. You want to make sure your website is user-friendly, and that it has the information and message you're looking to relay very clearly. What's most important is you want to be able to appear in a search. Having the answer for your prospecting customers is fine, but having the answer doesn't matter if you don't have a voice. There's a number of great tools and tricks out there to help optimise your website, and I'm going to go through some of these now to make sure you're found in Google and your customers are able to see you.
SEMrush
The first one is SEMrush. What it does it that it lets you get a sneak peek into the eyes of what your competitor is doing, by seeing what keywords they're focusing on, and how they're going about marketing their business.
Maybe you're a bakery and you love selling croissants and they're going reasonably well, but your competitor always seems to blow you out of the water. You're able to look online and see exactly what they're doing, and what keywords they have to get to the top of the results and have people find them locally instead of finding you. Keywords by SEMrush is very cool stuff.
Google Tag Manager
Another helpful tool is Google Tag Manager. For it to work, you need to install it on whatever website you are using, whether that be a WordPress website, Joomla website or a Drupal site.
Google Tag Manager is a container to hold the code for other sites to be able to communicate through your sites. So, if you're advertising on Facebook, you can have your website linked to Facebook so that when you have an advertisement go out you can be found by your customers on Facebook. Then when they go to your website, you can then be notified. You can instigate a series of events, or maybe that'll then instigate the Facebook advertising to them. We've found that installing the Facebook pixel inside Google Tag Manager is really important.
Google Analytics
One of the other things that you can do to make sure that your customers are finding you and you're able to market to them appropriately is through using Google Analytics. This tool gives you an idea of how many people are coming to your website, how they're finding you, you long they're on the site for, and what is engaging with your customers. You will use this tool once they're already on your website and it is sensible to continue using that data and metrics to further your advantage with that potential customer.
Read: Website Metrics, What Does it All Mean?
Hotjar
With Hotjar, when people come to your site, you can see where they actually move the mouse, what buttons they're clicking, how they scroll on the site and how long they're taking to read articles. It gives you a lot of great analytics that could help you optimise your website for even better use. Maybe you need to have the services button a bit higher on the page, or people are scrolling all the way down to the bottom to click on contact us. This is another tool that's used once you get them to your site. 
One of the other really, really cool way to do that is making sure that your site's optimised for Google is to use meta tags.
Meta tags are descriptions and keywords that relate to the article or the information that's on your site.
Meta key phrases highlight exactly what it is on your site.
So if you're selling beach balls, you don't want to have a meta keyword as "ball" or "beach." You specifically want to have "beach balls" or "inflatable beach balls" if that is the type of balls that you're selling. When someone searches for that on Google, that's when you're going to come up. If you use a meta keyword as just balls, if someone's searching for volleyballs, golf balls, or footballs, you're not going to come up. You need to make sure that you're very specific with what your meta key phrases are. A maximum of around two key phrases mentioned three times per 200 words seems to be the balance that I find works well.
As an example, if you've got an article on your page, using two sets of key phrases works brilliantly will generally get you higher in the Google rankings because it's relevant when Google scrapes across your site and customers then find relevant information. Your meta description should contain the key phrase, and not be too long.
You need to also make sure that with your titles aren't too long, have the service name in them, and are going to be enticing to the customer when they visit them. This could be a blog article, or it could be a service. Maybe if you're a mechanic throughout the Brisbane area, your title could be something like, mobile mechanic, Brisbane, and then include your business name. That would be the absolute shortest most basic way you're going to go about it. If you're unsure what to do, there's a tool out there called Headline Analyser that lets you see what headlines would rank well so that you know how to form your headline or your page title.
SEF-Friendly URLs
So your URL is that bit in the title bar. So Google.com would be the start of the Google domain name, and anything after the .com is part of what you want to make sure is very search engine friendly for your site. So for instance, instead of having, for us, dorksdelivered.com.au/index.php? you want to make sure that if you're going to the blog, it's just dorksdelivered.com.au/blog. This makes it easy to read for humans as well as for search engines.
Have a Quick Website
The speed of what your site loads significantly impacts your ability to rank on Google. If your website loads faster, not only will you get more visitors, it'll cost you less for marketing and you will be going further up in the Google rankings. The general rule of thumb is to make sure that you're getting a website that's loading in under three seconds all the time. You want to have it very quick.
Read: Your Hosting Provider Sucks!
People don't want to hang around. If people are waiting too long, they're going to just go somewhere else and go to your competitor. To make sure that it is loading fast, you need to have your hosting on a very good platform, not some cheap crazy hosting plan, and you want to make sure that it's based within Australia, or where ever the demographic of your client is.
Backlinks
Backlinks are vital to improving SEO. When you get something that you've made published with someone else they should put a link back to your site, which is a backlink. This enhances your position on Google quite a bit, because if they've got a website that has a higher page ranking, Google sees the association, and says, "well, they're an authority because they've got a higher page ranking." Therefore, some of that authority is going to rub off on you. An example of that would be if you had the industry leader decide to put a post about you and your business, and how great it is in what you're doing, their high website ranking would then rub off on yours. This would drive traffic through Google saying, "well, they know you, so you must be pretty good, you're rubbing shoulders with the right people, so let's increase your ranking." This, in turn, will bring in new customers for you.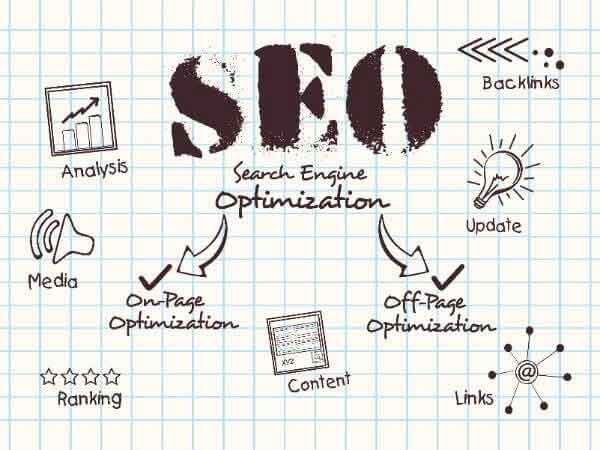 Alt Image Tags
Another tip that isn't as commonplace is to use alt tags for your images. On your websites, you want to make sure that any of the images that you use have a description that allows for when your mouse hovers over it you can see it is relevant to what's in the image. This was = more important in the past before google could read the information in the photo without you having text next to it, but it still adds value.
Update Your Content
The final one and the biggest one of all is to have changing content on your website. Don't be static and boring. Have new things coming up and happening. Make sure the information that you have coming up is relevant and is new content that hasn't existed on the internet beforehand.
If you're able to do that, and you're able to be consistent with this, Google will increase your ranking. That means that if you're creating a blog, and this blog is released once every two weeks, be consistent. You can do this by writing four or five blog articles at the start of the month, and then you can schedule them out to be released every two weeks for the next eight to 10 weeks.
Google looks at the changing content and goes, "okay, no one in their right mind would be making a website and just changing this stuff. There must be visitors coming here. There must be an audience that they're anticipating." Make sure that the content is relevant information and it's also containing the keywords that you're using for your target market.
Final Word
I hope this information's been useful. If you want to know more, be sure to email us as we'd be more than happy to help you guys out!

Contact a CHB Leader in Managed IT Support to learn more about IT outsourcing and other IT security solutions for your business.
Do you want to receive quality content about technology, business growth, life and mental health every week?
[module-377]