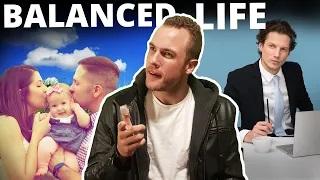 This is Chicago and it's one of America's powerhouses of the economy.
The Great American City
And while Washington is dominated by politics and New York is farmed for its banking and financial institution, Chicago is different. What makes Chicago different is it has balance.
The city has made $670 billion last year. That's more than London or Paris, and no single entity dominates.
It has a little bit of everything. Has banking, manufacturing services, research, and tourism. And it seems to me that this is what modern workers need, too.
Balance Is More Important Now Than Ever
In the past, we needed a lot of specialisation, and this was because there were many very technical processes that are hard to learn and hard to do. This could be something like using a machine in a factory, navigating an old piece of software, or searching a database system. Pretty much any other complex task.
But now we have automation and huge access to information. So the complicated, repetitive tasks are being done by machines.
Now that's really, really important because many more skills are available for everyone to learn. You don't need a special textbook or a college course. You can easily learn and do many things online.
Do you need help with automation to improve your business operations? Consult a dork for free.
Is It a Bad Thing?
Some people say this is a bad thing, and that machines are taking away jobs, but I totally disagree. It's removing repetitive tasks, and that's a good thing, guys.
Now what we need is a balance of skills. We need to communicate the problem, solve, be creative, innovative, manage, and many others. So if a lot of your job is just doing the same thing over and over, even if it's complicated, it's not a satisfying job.
Automation for Work-Life Balance
Work out how to automate it and bring balance to your job, letting you learn and use other skills. You'll find it's going to be a little more rewarding for you and you'll feel better at the end of the day when you come home. Now I'm off for a run.
[module-379]