Pros and Cons of Outsourcing IT
Traditionally companies wanted complete control over all the aspects of business and hence, everything was done in-house. With changing times, business became complicated and processes became more specialised. It became impossible to do everything on your own. This was the dawn of outsourcing. Outsourcing plays a pivotal role in the dynamics of any business. A company in need of freeing up its manpower looks at outsourcing first and automation later. Today, there is no end of activities which can be outsourced.
Business is all about digitisation and technology. Dependence on information technology to keep the employees productive and customers delighted is continuously increasing. Big companies consider IT an integral and strategic function of business and so believe in taking care of it in-house. There are those who feel that they would be better off handling the core business and letting someone else take care of their IT requirements.
Deciding to keep IT in-house or outsourcing it is a personal choice of the business owner or the board of directors. Knowing the pros and cons of outsourcing IT will give you a chance to make the right choice.
Pros of IT Outsourcing
Small and medium-sized enterprises benefit the most from IT outsourcing. They contract with an MSP (Managed Services Provider) to take care of all their IT needs.
1. Free up Existing Resources – Resource crunch is a normal occurrence for small businesses. Resources may include manpower, office space and equipment, all of which come with a price tag. If work which is not central to your product or service is outsourced, it makes more internal resources available to handle the other activities. IT outsourcing firms will provide you with all the necessary help without making physical use of your infrastructure and resources. Operating remotely they will deliver the expertize every time with quality hardware and software that runs on the industry best practices.  
2. Fixed Expense – The cost of hiring an IT outsourcing firm is fixed as per the agreed contract. You can employ the one that suits your requirements and fits within your budget. There is no stress around training new staff, upgrading software, resolving technical issues and carrying out maintenance. All this is provided by your IT partner. Since all expenses are built into the fee itself there are no financial fluctuations. For a fixed amount you are getting expert help.
3. Drive Focus On Business – Small businesses often operate on a time crunch. There are a thousand things you wish to do but the scarcity of time prevents it. One of the activities that take most of your and your employees productive time is IT management. IT outsourcing gives you more time to work on your business. It gives you a chance to do those things for which you had no time. As the owner of a small enterprise, you need to work on your business, improve things, tweak processes, and hopefully have the time to dream of innovations! Your focus comes back on the business and not just getting work done from one day to another.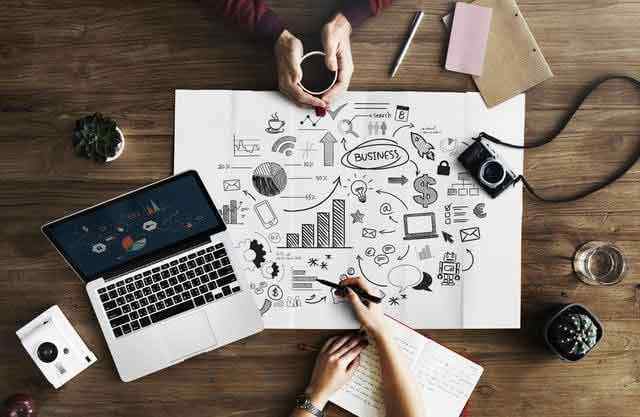 4. Scalable Resources – IT outsourcing companies have a network of  skilled manpower. These people are trained to handle all kinds of situations. When the need arises it is easier for an IT company to scale its resources. They can free up people from one area and allocate them to those that need greater attention. Similarly this can be done with equipment. Small businesses seldom succeed in doing so. They are already short on people and resources, any crisis is just a setback for them.
5. Tight Security – Cyber attacks are not unheard of. They are increasing day by day and cause many businesses to fail. Managed services providers pride themselves in giving their clients top notch and best in class security measures. They proactively strengthen firewalls, check for backdoor vulnerabilities on the network and servers, apply patches and do bug fixes. They rise to the occasion and ensure that things at your business end work as they ideally should.  
6. Rival Big Companies – A small business finds it hard to have its own IT department. They are technologically challenged not due to lack of wanting but because finance is tight. Big companies, however, do not face such limitation. In order to give all companies, big or small, a fair chance to succeed, IT outsourcing companies level the playing field.
Cons of IT Outsourcing
Finding the most appropriate vendor is easier said than done. Even then there are some things that will not work in your favor.
1. Little Or No Control – For any business owner walking away from a core business function can be near impossible. Outsourcing it, however, changes the dynamics. You will no longer have sole and complete control over any of its aspects. This loss of control is both frustrating and worrying. Frustrating because you want to be kept in the loop and you aren't. Worrying because you have no idea of how efficiently or inefficiently IT is being handled.
2. Hidden Costs – When your IT partner is off-shore incidents like double billing, phone consultation fees do happen. Often these add up to a large dollar value. More than anything else these expenses leave a bad impression with the customers. In some cases, the customer may even become deadset against outsourcing.
3. Erratic Communication – Although the channels of communication are always open, frequent queries are not advisable. Sticking to communicating when it is really important makes for a good professional relationship. In some cases, the IT partner may not be aware of the local language due to which communication problems may arise. These situations can cause misunderstandings and chaos.
4. Access To Confidential Information – Due to digitisation in business all data and processed information is now stored on servers and hard drives. Your IT partner has full access to this data as maintaining its integrity is one of their prime functions. This increased exposure increases the probability of information theft. You need to know and trust your IT partner to ensure you feel comfortable with your data being in their hands.
Final Thoughts
Having your own IT setup or outsourcing it (no pun intended..) is a decision that every business owner has to make. The advantages of outsourcing far outweigh its disadvantages. Having a sound contract will further diminish any drawbacks. Deciding to let a third party handle your IT needs is a big decision. Take your time and get it right in the first instance. The right IT vendor will help you reach the pinnacle of success.

Contact a CHB Leader in Managed IT Support to learn more about IT outsourcing and other IT security solutions for your business.
Do you want to receive quality content about technology, business growth, life and mental health every week?
[module-377]