What Are the Latest Scams That Target Australians?
Australia was not spared from the recent internet scams that have been happening globally. Known as the 'Investment', 'Agent Smith' and 'Intimate Images' scams, they can take advantage of your financial status and even steal your identity. You can get to know more about these scams, how they work and how you can protect yourself from scammers.
What Is the Investment Scam?
Recent reports have claimed that scammers sold fake investment products to Australians online, costing many millions of dollars and having the victims' identities stolen. These scammers were also able to convince their victims to hand over their personal information for exploitation.
---
How the Investment Scam Works
The scam works by attracting online users to a fake website for investment through an advertisement. The link to the fake website pops and opens when an ad from popular social media sites is clicked or tapped. Visitors of the page are easily convinced that it is legitimate because the ads are from well-known programs or highly respected individuals of the community.
Targets that access the website are asked to create an online overseas account and invest a modest amount like $250 to become an account holder.
After this, a 'professional' makes a follow-up call to convince the victim to continue investing. The victim could log back into the fake website and monitor the 'growth' of the fake investment but the truth is that the money invested went directly to the scammer's account and that there is really no investment plan.
The scam usually happens only within a week starting from the setup to them stealing the victim's money. On average, Australians lose tens of thousands of dollars while some even lose hundreds of thousands. The scammer requests the following during the initial phase of the scam:
Personal identification issued by the government like a passport or driver's license

Bank account details

Email address

Digital wallet set up through remote access only.
Remote access is when you give permission to another user to take over your computer via the Internet. The other person on the other end can install programs or gain administrative access to your device. Remote access also grants access to your personal information for nefarious purposes like identity theft. If the user fails to comply with any of the requests, the scammer becomes more aggressive.
---
How to Stay Safe Online
To prevent this, you should:
Do more thorough research on the company that you want to invest in.

Look out for warnings and signs regarding a company.

Learn more by getting financial advice from trusted experts.

Get a second opinion from family members and friends before investing.

Never give any personal or financial information to an unknown caller no matter how legitimate they sound.

Never allow remote access to any of your devices.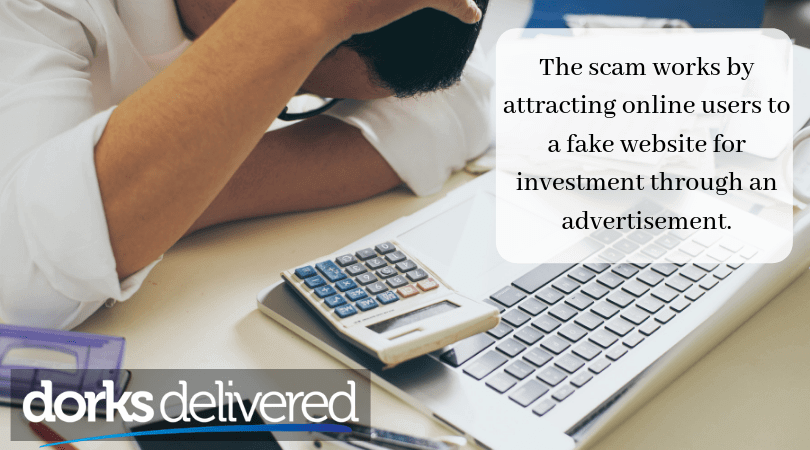 ---
You May Also Like:
• Cybersecurity Alert: Watch Out for Fake CIA Emails
• It's Scams Awareness Week 2019!
• Beware of This New Recruitment Fraud
---
What Is the Agent Smith App Scam?
Other recent reports claimed that a malware called Agent Smith has begun infecting Australian Android phones. It starts when a user downloads a game application from third-party stores. Globally, it has already infected 25 million Android devices.
---
How the Agent Smith App Works
The Agent Smith App malware infects an Android device by installing a game app from a third-party site. After infecting the device, the malware embedded in the app secretly searches for other apps installed, feeds and creates a clone version and replaces the original application. Agent Smith can clone the following:
Agent Smith clones and replaces real apps without the user's knowledge while keeping the granted permissions from the original ones.
When the fake application is launched, it will display a fake advertisement. A single tap on any of the subjects the victim to the scam. The tap that redirects users to a different link gives hackers access to the victim's both personal and financial information and other online access including passwords, which makes stealing personal information and money easier for scammers.
---
How to Stay Safe Online
To prevent or remove this malware from your device, you should:
Go to your device settings and uninstall any suspicious-looking app.

Remove recently installed applications.

Download from legitimate app stores only.

Avoid accessing random online ads.

Install ad blockers.

Automatically update your device and apps with the latest version.
---
What Is the Intimate Images Scam?
The Australian Cyber Security Centre and Office of the eSafety Commissioner already received more than 300 reports about this email scam. The perpetrators threaten to reveal intimate images of the victim unless the victim pays a ransom. Surprisingly, the email comes from the victim's own email address.
---
How the Intimate Images Scam Works
The scam works similarly to blackmail and 'sextortion'. The victim is asked to pay the ransom in cryptocurrency. If not, the victim's friends and family will receive emails that contain these intimate images. Scammers use 'spoofing' to manipulate and hide their email addresses, making the scammer's email appear legitimate.
---
How to Stay Safe Online
If you received any image-issue related spam, here are some countermeasures:
Report the incident to the Office of the eSafety Commissioner immediately.

Don't send a ransom in any form.

Do not reply to the email and cease any contact with the scammer.

Call Triple Zero (000) or your local police station for any physical safety concerns.

Change all passwords for your social media accounts, bank accounts, and even the used email.

Review your privacy and security settings.
The Final Word
All of these scams aim to exploit people's fears for profit. Scammers will do everything to get their hands on information for financial gain. They can be aggressive, so make sure you protect yourself by updating your apps and devices, avoiding suspicious ads and reporting any incident to authorities.

Contact a CHB Leader in Managed IT Support to learn more about IT outsourcing and other IT security solutions for your business.
Do you want to receive quality content about technology, business growth, life and mental health every week?
[module-377]