Face it! Information technology has drastically changed the face of business. It doesn't matter anymore where you are, where your employees are, and where your customers are and we have proven that during the lockdown.
If your IT department is doing its job well, it can help you reach anywhere on the globe. Employing a full team of IT professionals might be too big a step for businesses that are just starting out or bouncing back after the Covid-19 crisis. For most companies, you can simply outsource. It means bringing on a team of IT brainiacs as a third party to manage your IT requirements. To make matters easy, here is the ultimate guide to IT outsourcing for small businesses.

Why Outsource IT?
There are many reasons you need to think about IT outsourcing services.
Cost-Effectiveness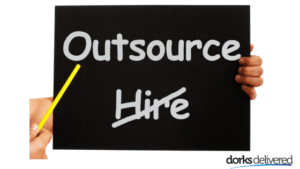 As a start-up or a relatively new business, finance is already tight. You really want to make every penny count.
In such a case, setting up an entire IT division is just an added expense. An expense you can very well do without. It would involve hiring extra staff, equipment, office space, insurances, workcover, and superannuation.
On the other hand, if you outsource the expense, it comes down to the black and white hiring fees.
Access to the Best Technology
Because you are new in business, getting state of the art technology might seem like an expenditure you can very well do without. But if you outsource, it is the prerogative of the third party to make sure that it has the best that the industry has to offer, both in terms of technology and manpower. This is necessary to maintain their competitiveness in the market.
The benefit of this drills down to you as well. You get the best technology, with no headache of future updates, skilled manpower, and all this for a fixed amount each month. As a business, you get guaranteed operational efficiency and accountability.
IT Services to Outsource
Now that you know the benefits of outsourcing, your next question would be, "Which activities to outsource?" The truth is that almost everything can be outsourced for the right price. Nonetheless, as a business, you need to be critical of this. The activities which you can outsource without much trepidation are:
Software development and implementation
IT support services including IT maintenance, data backup, data recovery, and security
Activities like data management and data processing can also be outsourced
Access to the latest technology doesn't have to be expensive. Check out the Dollar IT Club for affordable hardware, software, and other business solutions.
How to Outsource?
Deciding to outsource is only half the battle. How to outsource is a completely different ball-game.
1. Determine What to Outsource 
First and foremost, you need to decide which activities to outsource. This might require brainstorming and talking to others riding the same business boat. Remember experience is mighty armour, learn from other peoples hits and misses. There is no point in committing mistakes which others have to their detriment.
Let their experience count and learn from it. Having done this gig for a bit, you will find that your competitors are all in the same boat and normally over a casual beer will comfortably steer you in the right direction. Very few businesses out there are going to cause malice.
2. Make a Business Case 
When it comes to making decisions, you might not be the one who has the last say. There might be other equally invested in the success of your business like your partners and shareholders. Make a business case so that you can sell it to others involved in the decision-making process.
3. Budget
Because you are trying to save money by outsourcing to an IT solutions company, have a budget that makes you feel comfortable. Don't pull this figure out of thin air but do a complete cost-benefit analysis to justify it.
Make sure that the companies that you are looking to outsource to are going to serve you with a budget that you resonate with. There are companies out there with very cheap hourly rates but they lack the integrity and training to get your problems fixed in acceptable time frames.
Access to the latest technology doesn't have to be expensive. Check out the Dollar IT Club for affordable hardware, software, and other business solutions.
Look for a company that charges a flat rate per month in a plan that is tailored to your company and includes an uptime guarantee. You can be sure that if something does go wrong they will want to get it fixed as quickly and as properly as possible, removing potential revenue loss due to downtime.
4. Send Out Feelers
Now that you know what you want and how much you are willing to spend on it, it's time to find out who is interested. So, start looking for an IT solutions company who makes you feel comfortable. Check their market reputation and financial feasibility.
5. Either Approach or Invite a Third Party
If there is a specific firm that you want to outsource your IT to, you can approach them directly. Alternately, you could invite a few of them to make a presentation along with a pricing model. At this stage, you should have the complete picture of your IT requirements clear in your mind. This way you will be in a better position to judge whether you are getting value for money, if they are over-servicing and if you want to do business with them or not.
Off-Shore or On-Shore Outsourcing?
Usually, offshore-providers are more reasonably priced. However, while outsourcing, pricing should not be the only concern. Getting a cheap provider who fails to deliver on the contract is a useless and cost-heavy expenditure.
Being cheap is expensive. It's not all sunshine and roses yet, frequent meetings might be required with the outsourcing partner to overcome the initial hiccups.
How will this be managed? You will also have to make sure that they conform to the same rules and regulations, as yourself, when it comes to data protection and other critical activities.
In short, they need to legally adhere to all regulations as any on-shore service provider. How will an audit of this be conducted? Again, the language barrier might create further problems.
How will they overcome this factor? If you get a satisfactory solution to all these questions, you can go for an off-shore provider by all means. But, if there is any niggling doubt, your answer lies in an on-shore provider.
Let the experts take care of your IT management. Check out the Dollar IT Club for affordable hardware, software, and other business solutions.

Are SaaS and IT Outsourcing the Same?
SaaS or Software as a Service and IT outsourcing are principally the same in the service delivery. SaaS is a web-based solution while IT outsourcing may or may not be so. If you look at the broad picture, SaaS may provide services like sales force automation, finance, and accounting etc. IT outsourcing services refer to the management of all hardware, software, licencing and project management for any business elements both in the cloud and on any premises.
Most IT support companies that have a high level of integrity will not charge you per hour to support your network unless they are unsure of their integrity due to old hardware, etc. The companies that charge per hour do so because they are either not technically capable of managing your network at a set price, they don't want the responsibility of 24-hour monitoring or know that they could very well spend too many hours on your infrastructure because they are inexperienced.
Are There Any Drawbacks?
A win-win position can sometimes be possible. It is always best to plan for the worst-case scenario. At least it gives you a chance to be prepared for the unforeseen future. Having said that, if you have made a wise and informed decision while choosing an outsourcing provider, don't stress.
Worst case scenario is that you lose control over a significant business activity or service. For example, if your outsourcing partner does not provide you with a decent service, your customer relationships will suffer. Your outsourcing partner might be so rigid that there is no scope left for any flexibility. In order to salvage your reputation in the market, you may have to invest more time than you bargained for when managing your relationship with your IT outsourcing partner.
The Final Word
There is no sure-shot way to success. Sometimes you make your own mistakes and learn from them and sometimes you learn from those of others. Success stories are made of hard work and the determination to succeed. Always, remember it is easy to make a decision when you understand and have a complete overview of your business and all that it entails.
Before taking any decisions educate yourself about your business needs and requirements. Support your education with data that corroborates with you armed with data so you can never go wrong when making a decision on whether to hire an IT team or outsource your IT processes.